Implant Dentistry
Implants are a great way to replace missing teeth, whether it's a single tooth, multiple teeth, or a full set of dentures that you're replacing. Dentures, bridges or individual teeth attached to implants provide stability, a more secure fit, and a more natural look and feel.
We'll create a model of your mouth, which will allow us to make precise measurements and pinpoint the optimum location for the implant. Then we'll surgically place the titanium cylinder. When the area is healed, we'll attach the custom-made restoration.
Dental implants are small titanium cylinders that are surgically inserted into the bone of the jaw. A restoration is then anchored to the implant. Since the implant is inserted into the jaw, surrounding teeth are not affected. Also, bone levels are preserved…an added plus.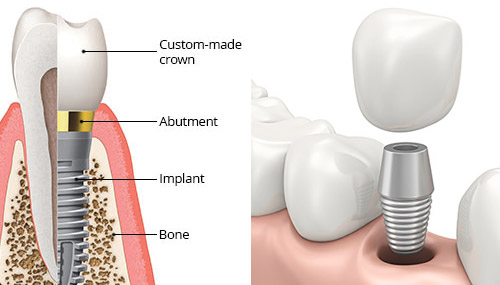 Implant Procedures
We will examine your current condition to find the best treatment.
Depending on multiple factors (number of tooth, presence of infection, etc.), your tooth may need to be extracted and grafted with bone prior to the day of implant surgery. In that case, we will wait about 4-6 months for bone to heal since a good foundation is a key to success.
Implant Surgery: an implant body (similar to a root of natural tooth) will be placed into the jaw bone. Multiple implants can be placed at once if necessary. After the implants are placed the gums are sutured.
During this healing time you can have temporary crowns installed so that you can eat and speak normally. You will come back in 2 weeks for us to exam on healing process.
You may return in 4 months – 8 months from the surgery day depending on your health, the bone density and other different factors for impression to make your crown.
After 2 weeks of impression day, your final crown will be delivered!
Your smile will look just like it used to, and after a short period of getting used to the implant it will feel just like one of your own teeth.